3D Hologramm Projector
Discover the HOLOCIRCLE 3D hologram projector, a completely new kind of advertising medium, and present advertising content and your favorite motifs in the most progressive and striking way. Make creative content of your liking appear in thin air, and get a piece of science fiction for your business, your office or simply at home. Bring your logo to life, and make it dance in thin air before your very eyes. Place your ad in your store window with the greatest impact potential, and you'll be guaranteed to grab the undivided attention of passers-by. Or fulfill your child's dream and make their favorite superhero, cartoon character or a fascinating fire engine appear right in front of them. The possibilities are endless – welcome to the world of the LED hologram.
THE AGE OF HOLOGRAMS BEGINS.
READY?
3D hologram projector
creates virtual reality
TV Report
The HOLOCIRCLE is an innovative 3D hologram projector that allows you to project any motif floating freely in space. This is made possible by sophisticated holographic display technology, which enables the projection of floating objects through a large number of small LEDs. Find out more in the TV report.
BIG – BIGGER – HOLOCIRCLE WALL
It can also be bigger! Thanks to an intelligent cloud solution, many HOLOCIRCLE hologram projectors can be synchronized to form a huge hologram projection, which creates a hologram across the entire system without any gaps. Installations that will astonish your audience. Witness the audience's astonishment in the video.
Holographic display technology on propellers
What appears as motionless as a simple propeller creates a virtual experience in a class of its own when it is in motion. Each of the propellor's rotor blades hosts a multitude of LEDs. When the hologram projector is programed to generate a hologram, the rotor blades start turning at over 600 revolutions per minute, making them invisible to the human eye. At the same time, the LEDs on the rotor blades generate the image material and reproduce the desired motif in color and movement.
With the hologram technology of HOLOCIRCLE's holographic display, you can create your own personal virtual reality without having to wear special VR goggles or similar.
Take your advertising to a new level with hologram technology
High-quality, effective advertising is more important than ever today. Anyone aiming to achieve something and bring their company or brand out of the limelight has to escape the flood of advertising material and stand out from the competition with a presentation that is as unique as possible. That's exactly what you can do with the HOLOCIRCLE 3D projector. The HOLOCIRCLE is ideal as a new type of advertising medium, and inspires viewers of all ages with its LED holograms.
Buy the HOLOCIRCLE in two sizes for personalized hologram generation
The HOLOCIRCLE is available in two versions with different diameters, which will perfectly suit your requirements or purpose. It's all down to the respective length of the rotor blades. You can choose the right HOLOCIRCLE 3D projector to suit your budget and area of ​​application.
The HOLOCIRCLE 65X is the HOLOCIRCLE series flagship. The 3D hologram projector of the HOLOCIRCLE 65X has a diameter of 65 cm. The "X" in the product's name is derived from the X-shaped arrangement of the four rotor blades, which rotate "freely" (without an acrylic housing) in space. This is the decisive difference compared to the HOLOCIRCLE 30 – there are no glass walls, so the 3D hologram projector of the HOLOCIRCLE 65X creates the breathtaking illusion of a three-dimensional object that truly floats in space.
Another advantage is that the HOLOCIRCLE 65X can be connected to other devices. For this purpose, the devices are synchronized via the cloud and can then be combined to form an advertising space of up to 40 square meters.
The HOLOCIRCLE 30S is our latest product. Launched on January 1st, 2020, it offers an ideal entry-level model that's technically way ahead for all users with a low to medium budget. The HOLOCIRCLE 30S has two rotor blades with an overall diameter of 30 cm, and is enclosed in an acrylic housing. The acrylic housing makes handling and usability all the more flexible: Simply place the Holo Circle at any point of sale, or use it to introduce and illustrate new products, even in a small conference room.
HOLOCIRCLE 65X – UNBOXING
The holo display that always attracts attention
The HOLOCIRCLE 65X is perfect for use at trade fairs, representative events or large company functions. If you are responsible for designing store windows or shopping corridors in large department stores, use the HOLOCIRCLE 65X to set a convincing accent and visual appeal that will catch the eye of every visitor. Hologram technology is perfect for drawing attention to specific products or offers. Overall, the hologram technology in the HOLOCIRCLE 65X offers the greatest number of application and design options, and has therefore developed into a popular advertising medium among larger customers.
Using the HOLOCIRCLE 65X's holographic display at a trade fair stand ensures that you effectively stand out from the competition. By presenting your advertising content not only on LED walls, but also in the form of one or more unique, free-floating holograms makes your advertising message much catchier. You're sure to attract the attention of audiences of all ages with the breakthrough technology of the HOLOCIRCLE 65X.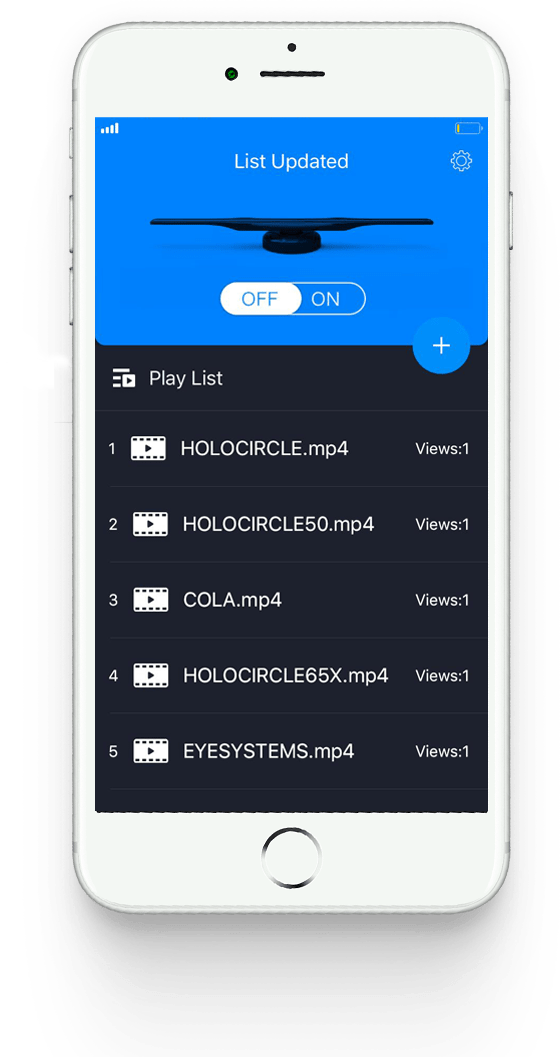 The HOLOCIRCLE app
Reproduction of all format types on the hologram display
The HOLOCIRCLE is suitable for the holographic projection of ads in different formats. Anything is possible, whether your content is in JPEG, mp4 video format or a GIF file. Playback is uncomplicated and quick with the help of a smartphone or tablet. The dedicated app is used for this, with which you can select the desired content and creative material.
A variety of applications
Trade fairs, store windows – or your living room at home!
Just like the type of content presented, the HOLOCIRCLE hologram display also has many areas of application. The HOLOCIRCLE enables you to present your ad at any type of event – for example, in the classic trade fair – make your store window an absolute eye-catcher or enhance the entrance areas of ​​train stations or airport halls.
Attention and fascination through holographic projection
Although presenting advertising content on LED walls is a popular, tried-and-tested method, the HOLOCIRCLE creates a whole new level in the perception of visitors and viewers – in the truest sense of the word. Thanks to the HOLOCIRCLE's holographic projection, objects appear three-dimensional and thus realistic and almost "touchable". And that applies to all types of objects: Have your company logo, a spectacular product description or animated ad content float in space.
Get that Star Wars feeling in your living room – with an LED hologram
Of course, you can also use the HOLOCIRCLE's 3D hologram projector at home in your living room, study or any other room. With the HOLOCIRCLE, you can bring a piece of science fiction into your own four walls. Star Wars fans in particular will feel as if they were suddenly in the fantastic world of their favorite film. Because seeing a hologram floating in front of you for the first time seems like a vision from the future that has suddenly become reality. See for yourself, and make your favorite character, a space shuttle or even the famed "Death Star" appear out of nowhere.
Activate a HOLOCIRCLE 65X to discover the reference logo
(simply touch with the cursor)